IMPORTANT FAIR INFORMATION
The Roseau County Fair is traditionally held the third full week in July.
Upcoming dates:
2021: July 18-23
Secretary's Office Hours: 9 a.m. – 9 p.m.
Secretary's Office Phone Number: 218-463-3387
(in service for the week of the fair only)
Exhibit Building Hours: 5 p.m. – 9:30 p.m. Tuesday
11 a.m. – 10 p.m. Wednesday through  Friday
Midway Hours: 6 p.m. – Closing (Tues) / 2 p.m. – Closing (Wed-Fri)
Food Vendors Hours: Varies by Vendor
Advanced Sale Ride Tickets
Advanced Ride Tickets go on sale the last week in June and remain available through Tuesday of Fair Week at 5 p.m.
Advanced Ride Ticket Pricing
$13 for 10 tickets
One ticket for each ride, except for Spectaculars.
Advanced Ride Tickets are available at the following locations:
Badger: KC's Country Market
Greenbush: Ace Hardware
Roosevelt: Knutson's Grocery
Grygla: Grygla Grocery Store
Roseau: Border State Bank, Citizens State Bank, Super One Foods, Cenex C-Store
Wannaska: Lee's Store
Warroad: Doug's Supermarket, Streiff Sporting Goods, Cenex Farmers Union
Strathcona: Paradise
South Junction, MB: South Junction Co-op
Camping Fees:  $10/day (without electrical hookup), $20/day (with electrical hookup)
Severe Weather Policy (pdf)
Demonstrator Policy (pdf)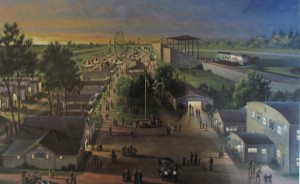 Prints of the Roseau County Fair Centennial Marv Espe Painting are on sale for $100.
Please contact Richard Magnusson for more details:
218-689-6634
rmags@wiktel.com